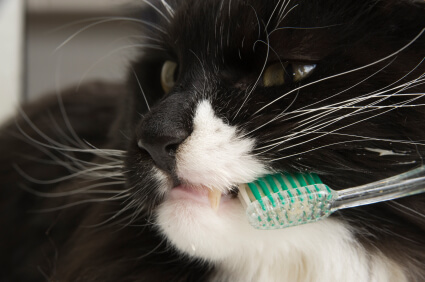 Your pet depends on his or her teeth too much for them to be ignored. Annual dental exams not only help reduce and eliminate noticeable tartar and plaque, but also ensure the overall health of your pet. Abscessed teeth or gum infections can be painful and lead to further health complications. We will take time to go over your pet's current dental health, explain any recommendations we may have and provide examples for how you can help your pet keep his or her teeth healthy and strong.
---
Dental Cleaning
If there is excessive tartar and plaque buildup on your pet's teeth, a dental cleaning may be required. In order to do a thorough job, general anesthetic is required. Pre-anesthetic blood work allows Dr. Rod to customize an anesthetic and pain management protocol for your pet to ensure safety and comfort throughout and after the procedure.
---
At-Home Dental Routines
You wouldn't go a day without brushing your teeth, and ideally neither should your pet. Having and completing a comprehensive at-home dental routine will not only assist in your pet's dental wellness, but can also save you money. Dr. Rod and Prairie Ridge Veterinary Hospital recommend the following dental routine:
Dogs
One of the following:

C.E.T. Dental Chew Treats
Aquadent
Cats
---
Annual exams, dental cleanings, and at-home dental routines will keep your pet smiling pretty for years to come!
"Dr. Yetter's professional & compassionate care enabled us to have Lady as a member of our family for over 17 years. Through his knowledge, extensive research, and willingness to reach out, he provided Lady with a long quality life in spite of numerous health issues. We are eternally grateful."

— Diane & Terry Svob

"Dr. Yetter and the staff at Prairie Ridge have given excellent care to my family of pets for about 20 years. I always feel comfortable asking questions and knowing I will get complete, caring answers. Dr. Yetter researches to find the best treatment options. My cats and dog are family to me, and we trust Prairie Ridge Veterinary Clinic."

—Janis Blout

"We are so grateful for the hard work and extra research Dr. Yetter did for our Tansy-cat to find out why she wasn't eating. If there is a time when your most precious friend is ill and you need to trust someone to care for them, Dr. Yetter is definitely that person! He went above and beyond to do everything he could to save our beautiful Tansy."

— Tom & Bev Berberett

"My pets have been patients of Dr. Yetter and his great staff for many years, and I have always been grateful for their efficiency and helpfulness. Having good care right here in Havana is a big plus!"

— Jan McFarlin

"I began to bring in my labs into PRVC when I started working there, and was happy to have such a caring and knowledgeable doctor to take care of two of my best friends. It always amazes me just how much care goes into each and every animal, let alone the perseverance of Dr. Yetter and staff (I should call them family) in working out how to treat each and every problem."

— Chris Johnson