Dr. Rodney Yetter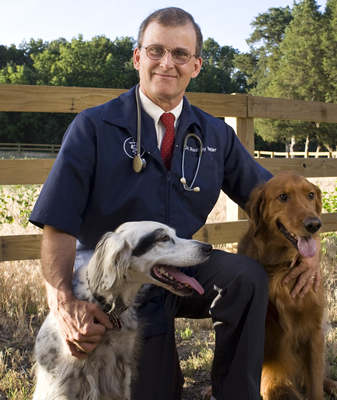 Dr. Rod was born and raised in Havana, Illinois, a community in which his family goes back four generations. After graduation from the University of Illinois College of Veterinary Medicine in 1983, he became an associate veterinarian at Petersburg Veterinary Clinic until opening his own practice, Prairie Ridge Veterinary Clinic, in his hometown of Havana in January 1986. The practice was operated out of his home for a little more than three years, moving to the present location in April 1989.
Happily married to Mary Yetter since June 20, 1987, they have two children, Jacob and Harley, and several family pets, including two dogs, a cat, a horse, a goat, five sheep, several chickens, a turtle, a rabbit, and tropical aquarium fish.
Very active in the area, the family attends St. Johns Lutheran Church of Matanza and the United Methodist Church of Havana. Dr. Rod is a member of the Havana Rotary Club, and Mary has taught grade school in the Havana School District for many years. Dr. Yetter enjoys spending time with his family and family pets, running, reading, gardening, hunting, fishing, and coaching junior football.
Whitney, Veterinary Assistant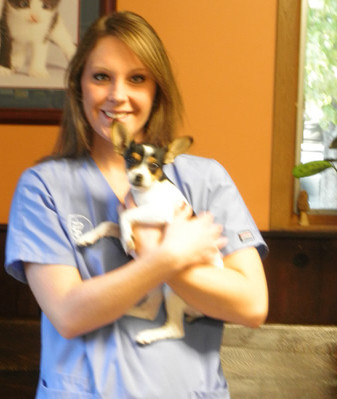 Whitney was born October 20, 1989, and raised in Havana, Illinois. Her parents live in Minnesota, and she has three brothers. After graduating from Havana High School in 2008, she decided to pursue a career in veterinary medicine. She is currently enrolled in Spoon River College's pre-vet program and hopes to transfer to the University of Illinois veterinary medical program.
She has four dogs, named Max, Hooch, Rufus, and Toby. In her spare time, Whitney likes to take her dogs for walks, go fishing, play volleyball, and spend time with family and friends. Whitney acknowledges that she has a long way to go, but she looks forward to the challenges ahead.
Amy, Veterinary Assistant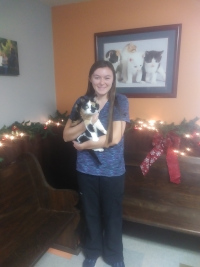 Amy Shaeffer is our veterinary assistant who assists with animal restraint and treatment, laboratory testing, anesthesia monitoring, janitorial duties, and taking care of hospitalized or boarded pets.
Amy has a Border Collie named Belle, and two horses named Annie and Endeavor which are actually wild mustangs that Amy tamed and broke to ride. Amy enjoys riding them regularly and taking them to shows.
Michelle, Receptionist
Michelle Nelson is our friendly, knowledgeable receptionist. She has been married to her husband, Mike, for 20 years and they have three children. She is an avid animal lover, with her own little zoo of dogs, cats, chickens, turkeys, a parakeet, and a cockateel. Michelle also enjoys fishing, and she is an avid reader, especially books about history, true crime, and romance.
Michelle loves her job. She and Dr. Yetter kid each other a lot about coming back to paradise when they come to work each morning! They are only partly kidding!
"Dr. Yetter's professional & compassionate care enabled us to have Lady as a member of our family for over 17 years. Through his knowledge, extensive research, and willingness to reach out, he provided Lady with a long quality life in spite of numerous health issues. We are eternally grateful."

— Diane & Terry Svob

"Dr. Yetter and the staff at Prairie Ridge have given excellent care to my family of pets for about 20 years. I always feel comfortable asking questions and knowing I will get complete, caring answers. Dr. Yetter researches to find the best treatment options. My cats and dog are family to me, and we trust Prairie Ridge Veterinary Clinic."

—Janis Blout

"We are so grateful for the hard work and extra research Dr. Yetter did for our Tansy-cat to find out why she wasn't eating. If there is a time when your most precious friend is ill and you need to trust someone to care for them, Dr. Yetter is definitely that person! He went above and beyond to do everything he could to save our beautiful Tansy."

— Tom & Bev Berberett

"My pets have been patients of Dr. Yetter and his great staff for many years, and I have always been grateful for their efficiency and helpfulness. Having good care right here in Havana is a big plus!"

— Jan McFarlin

"I began to bring in my labs into PRVC when I started working there, and was happy to have such a caring and knowledgeable doctor to take care of two of my best friends. It always amazes me just how much care goes into each and every animal, let alone the perseverance of Dr. Yetter and staff (I should call them family) in working out how to treat each and every problem."

— Chris Johnson