Occasionally we have a patient who has the need for an immediate blood transfusion. Animals presented in an emergency situation that are bleeding internally from being hit by a car or that have ingested rat poison are the most common.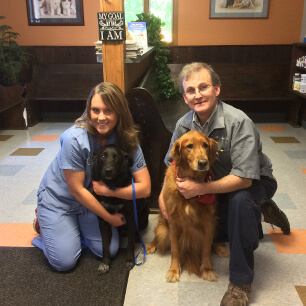 To meet this need we keep blood on hand for ready use. However, blood can only be stored for about five weeks so we have to collect fresh blood fairly often.
Pictured are Dr. Yetter`s dog, Scout, the Golden Retriever, and our veterinary assistant, Whitney Lewis`s dog, Max, the black Lab mix. We call them our hero dogs, because they often save lives with their blood donations. They are both very cooperative, holding very still for quite some time while we collect the blood. Of course, they get extra special treats and loving afterwards.
Oh, and of course we do the same thing for cats. Pictured is our hero cat, Mia, the clinic cat. She lives a very good life at the clinic, getting lots of loving and providing a lot of entertainment for our clients and staff, but occasionally is called upon to give an emergency blood donation also.
If you think your dog would like to become part of our Hero Blood Donor Program please contact us.
"Dr. Yetter's professional & compassionate care enabled us to have Lady as a member of our family for over 17 years. Through his knowledge, extensive research, and willingness to reach out, he provided Lady with a long quality life in spite of numerous health issues. We are eternally grateful."

— Diane & Terry Svob

"Dr. Yetter and the staff at Prairie Ridge have given excellent care to my family of pets for about 20 years. I always feel comfortable asking questions and knowing I will get complete, caring answers. Dr. Yetter researches to find the best treatment options. My cats and dog are family to me, and we trust Prairie Ridge Veterinary Clinic."

—Janis Blout

"We are so grateful for the hard work and extra research Dr. Yetter did for our Tansy-cat to find out why she wasn't eating. If there is a time when your most precious friend is ill and you need to trust someone to care for them, Dr. Yetter is definitely that person! He went above and beyond to do everything he could to save our beautiful Tansy."

— Tom & Bev Berberett

"My pets have been patients of Dr. Yetter and his great staff for many years, and I have always been grateful for their efficiency and helpfulness. Having good care right here in Havana is a big plus!"

— Jan McFarlin

"I began to bring in my labs into PRVC when I started working there, and was happy to have such a caring and knowledgeable doctor to take care of two of my best friends. It always amazes me just how much care goes into each and every animal, let alone the perseverance of Dr. Yetter and staff (I should call them family) in working out how to treat each and every problem."

— Chris Johnson