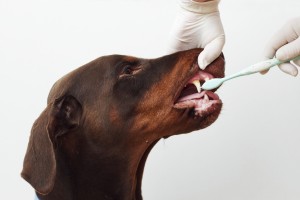 The Tooth, The Whole Tooth, and Nothing but the Tooth
Does your pet's breath have an offensive odor? Did you know around 80% of pets we see have periodontal disease by age 3? Periodontal disease is an infection of the tissue surrounding the teeth. This disease starts with plaque buildup on the teeth and eventually leads to gingivitis.
Brushing your pet's teeth or using special dental products designed to clean the teeth (dental chews) will help keep the plaque from hardening into tartar. The more tartar that accumulates the more plaque is allowed to accumulate; it's a vicious, endless cycle. At this point, a professional dental cleaning may be required to manage it.